[Narukawa joins in ICC Artists' Talk]
2011.02.02
TOKOLO Asao, IMAI Ken
Guest: NARUKAWA Hajime
Moderator: HATANAKA Minoru (ICC)Date: February 5 (Sat.), 2:00 pm–
Venue: ICC 4F Special stage
Capacity: 150 persons (first-come basis)
Admission free
For further information,
see
---
[Geo-Palette Launched]
2011.02.02
National Museum of Emerging Science and Innovation (Miraikan) launched a world map archive.
The on-line-service uses AuthaGraph world map for its format.
This archive is constructed by great efforts by Miraikan's stuffs and the archive's design team members.
Visit and experience the Earth's new angle of view.
http://geopalette.jp/
Register and log in to enjoy its full contents and tool.
---
Science Window, 2011 Feb. and Mar
2011.01.25
A magazine, Science Window, 2011 Feb. and Mar. , Japan Science Agency introduced AuthaGraph.
Together with AuthaGraph's world map, the magazine will be distributed to 25,000 schools (elementary schools, junior high schools and high schools.)
The map's backside introduces a comment from Mamoru Mohri, director of Museum of Emerging Science and Inovation and how this map is made of.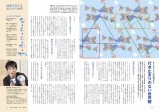 ---
[Press] NHK introduced new Geo-Cosmos
2011.01.11
NHK (Japan Broadcasting Corporation) introduced Geo-Cosmos in its news program on Jan. 11th, 2011.
Geo-Cosmos is a large full spherical display with organic EL panels (resolution:10 million pixels, diameter: 6m .)
and will start running it's program in March, 2011.
AuthaGraph CO.,Ltd. has been working for it designing.
for more detail>>
---
[Press] Authagraph World Map on DVD book, 'NHK the Great Summits'
2010.11.18
The DVD book published by Shogakukan is in store on 19th of November. The book plots on AuthaGraph World Map 10 mountains which are introduced in each volume. The 1st volume of the program introduces Mont Blanc.
for more detail>>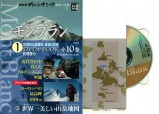 ---

---
NEWS