[Exhibition] KAMI TO KYU (PAPER AND SPHERE)
2012.03.07
Three paper craft globes we have designed for geografia are showcased in an exhibition, KAMI TO KYU (meaning PAPER AND SPHERE) at a gallery and design shop
Nishiogi Shiten
, Nishiogikubo, Tokyo.
date: March 7th to April 1st, 2012/ 12:00 to 19:00 (closed on Monday and Tuesday)
venue: Nishiogi Shiten, 3-31-3-2nd floor, Nishiogi-Kita, Suginami-ku, Tokyo
Workshop held on March 25th/ 14:00 - 16:00/ 2,000 yen (a BLANK GLOBE for the workshop included)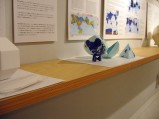 ---
[Exhibition] KAWALABO X 10
2012.03.06
'Kawara Print-making Labo'
invited us for a group exhibition 'Kawalabo x 10.' For the exhibition, we made two lithograph works. These lithograph works are available to purchase in the gallery.
AuthaGraph Stamp: 15,000 JPY + tax (30 editions)
AuthaGraph Multi Polar World Map: 15,000 JPY + tax (42 editions)
Kawalabo x 10
Opens from March 6th to March 11th, 2012/ from 11:00 to 20:00
at Gallery 'Alternative Space' Ishin-building 7th floor, 2-11-7, Yaesu, Chuou-ku, Tokyo
(5min from Tokyo Central Station)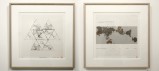 ---
[Award] LES DECOUVERTES prize
2012.01.24
A paper craft globe product, Twistable Globe [earth & sky] won LES DECOUVERTES prize in Maison & Object 2012. Twistable Globe was showcased together with other geografia's products in the Fair. New geografia's design products will be released in coming June.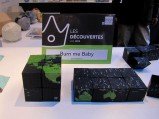 ---
[Exhibition] MAISON & OBJET 2012

2012.01.20
Geografia participated in trade fair of product design,
MAISON & OBJET
, in Paris. Paper craft globes, Flippable Globe, Twistable Globe and AuthaGraph Globe are showcased together with other geografia's product.
MAISON & OBJET 2012
January 20, 2012 - January 24, 2012
9:30 - 19:00 (until 18:00 on the final day)
Booth No. : Hall 6 musees / M4
Venue : Paris Nord Villepinte
Orgaziner : SAFI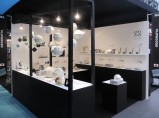 ---
[Exhibition] Quest for Vision vol. 4 Beyond the Naked Eye
2011.12.13
Crono-map 4700, an interactive installation are now showcased in Tokyo Metropolitan Museum of Photography from December 13, 2011 to January 29, 2012. The installation is a software showing a sequence of the world history for 4700 years in a rectangle. It is able to show the history by an animation too.
to Beyond the Naked Eye website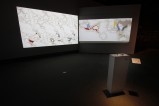 ---

---
NEWS