[Lecture] TEDx Seeds 2012
2011.10.23
Hajime Narukawa made a presentation in
TEDx Seeds 2012
held at YOKOHAMA RED BRICK WAREHOUSE on 22nd of October. Following 13 members gave presentations. Ryuko FURUKAWA, Yasuo SATO, Patricia TSAI, Koichi KOBAYASHI, Kenichi EBINA, Hiroshi ISHIGURO, Hajime ASAMA, TEMPEI, Koichiro TSUJINO, Oriza HIRATA, Cesar HARADA, Hajime NARUKAWA, Tomoki NAKAMURA, Masato FUJINO.
Movie of the Presentations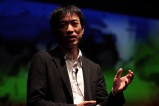 ---
[Exhibition] OPEN SPACE 2011/ TRANS SCALE 02 NTT ICC
2011.10.23
'Parallel Camera' is now showcased in Intercommunication Center [ICC] from October 22, 2011 to March 18, 2012. The device, 90cm wide and 2m high, is made of 160,000 straws and made without any electric equipments. Like an architectural drawing such as an elevation, it casts and projects an object to a screen while keeping its real size.
Date: October 22 (Sat.), 2011–March 18 (Sun.), 2012
Venue: NTT InterCommunication Center [ICC]
Hours: 11:00 am–6:00 pm
ARTISTS
IWAI Toshio SHIGETA Yusuke SHIBUYA Keiichiro + evala SUZUKI Yasuhiro TSUSHIMA Takahiro TERADA Naoki + TOKOLO Asao + NAGAOKA Ben + NARUKAWA Hajime Gregory BARSAMIAN David BOWEN MANABE Daito + ISHIBASHI Motoi IAMAS Surface Interface Design Project
OPEN SPACE 2011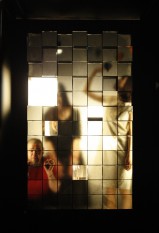 ---
Gifu News Paper, September 13th
2011.09.13
The article introduces 'AuthaGraph Globe,' 'TWISTABLE GLOBE' and 'FLIPPABLE GLOBE' together with a series of 'Sectional Globe' which Drill Design, a design firm has been designing.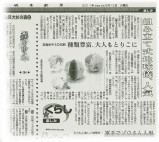 ---
---
ICC Kids Program 2011, 'Trans Scale, Changing Our Frames of Reference'
2011.08.19
A new art work, 'Parallel Camera' is showcased in ICC Kids Program 2011 from 13th to 21st of August. From 14:00 on 20th of August, Hajime Narukawa will make a workshop 'Let's make a wondrous camera!'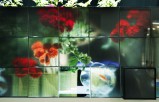 ---

---
NEWS